If your kids like scary stuff, they will love...
SCARY MAGIC SHOW FOR KIDS
Dr. Blood ~
He's Losing
His
Patients
Scream as Dr. Blood plunges a
screwdriver through his tongue!

Quiver as Dr. Blood slices his arm with a
10-inch kitchen knife!

Shriek as Dr. Blood saws through your child with a real Black and Decker power saw!

And witness many more horrible acts
right before your eyes.
Like it or not, some children love blood and guts. Dr. Blood is the only show of its kind that taps into this. It's for children 7 - 11 years old.

Dr. Blood arrives dressed in bloody scrubs. First Dr. Blood tells a story about a scary trip deep in the jungle where he met an evil witch doctor. It is a scary story and this gets the kids on the edge of their seats.

A Funny, Scary, Gross Magic Show.

Then Dr. Blood performs a magic show, disguised as a display of scary experiments. He starts out gently with non-threatening tricks. He moves on to grosser things like chopping off his hand, and poking out his eye. He builds up to the finale where he seemingly saws through the stomach of the birthday child with a real Black and Decker power saw.


Then Everyone Learns How To Do Their Own Gross Tricks.

In the second half of the show Dr. Blood gives the children a Dr. Blood Kit. It contains lots of cool, gross toys that the children keep. Dr. Blood teaches the children how to use the items in the kits to do really gross tricks so they can scare their friends (and especially their parents!). The Dr. Blood kit could be your party favor so you don't have to bother. This saves you money and time. The show is one hour long.


Hey Dr. Blood, what's the psychology behind your show?

The basis of the show lies in the fact that kids like the feeling of being at risk, when they know deep down that they aren't. For example, kids love going into a haunted house. They like to put themselves in situations that feel scary, but actually aren't dangerous. The Dr. Blood show is a chance for children to experience the thrill of being scared, without the consequences.


My 5-year old wants to be scared. Can you help me, doctor?

Dr. Blood has recently added a kinder, gentler version of his show for 5 and 6 year olds. This toned down show gets the children scared, but is much sillier than the Dr. Blood show for older kids.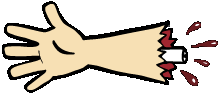 Free Funeral
If You Are Scared To Death
Dr. Blood ~
He's Losing His Patients